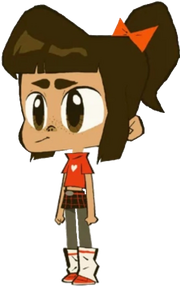 Sweet and smart, Boyster has his heart set on Alicia. Daughter of mega rich parents, she tries to be as normal as possible, she's passionate about art and loves nothing more than painting pictures of her beloved cat, Vanilla.
Appearances
Edit
Supermollusk, The Necklace, The Alien, Teachinator, Shelby, the Art Lover
Ad blocker interference detected!
Wikia is a free-to-use site that makes money from advertising. We have a modified experience for viewers using ad blockers

Wikia is not accessible if you've made further modifications. Remove the custom ad blocker rule(s) and the page will load as expected.